We discovered how much has changed in 26 years in employment by confronting the oldest and youngest, also the jubilee thousandth Tokić employee
Do you know that today in Tokić, 11 employees have been working committedly and continuously for more than 25 years? We also have a jubilee employees with 15 and 10 years of experience in Tokić, who still live and work with our motto "Safety on the move".
A place to stay
For a thousand employees, as many as the Tokić group has these days, those 11 magnificent ones don't seem like much, but then, when they became part of our family, the company employed only 24 people. So, we can proudly say that we have kept almost half of the people from that time.
People who believe in the company and invest their knowledge and skills are the foundation of healthy growth and one of the key reasons why Tokić is today the leading regional auto parts retailer and an innovative technology company with a bright future. New generations have also recognized this, so in the past six years, we have tripled the number of employees, and in 2021 alone, over 170 new employees arrived. In 2022, the Tokić Group stepped in with a number that exceeds a thousand valuable people!
And that is why, in order to find out how it used to be, and how it is today, we have merged the longest-lived, except the owner Ilija Tokić, employee Kristian Pavković and the youngest Ivan Pažin, who turned out to be the thousandth employee of the Tokić Group.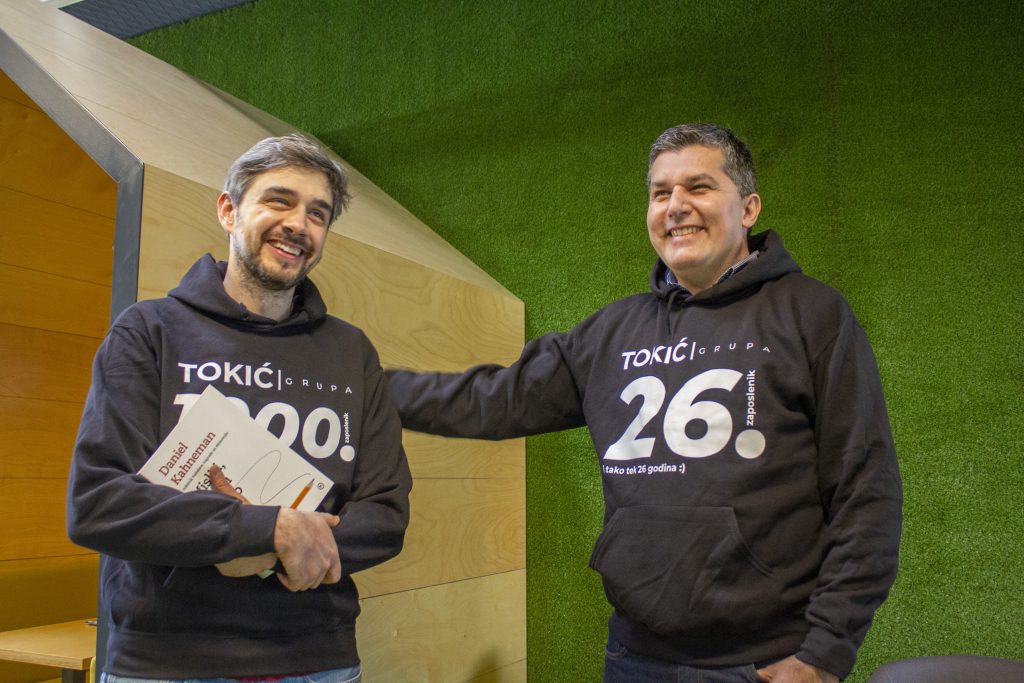 The grass used to be greener
When Kristian Pavković-Kićo came to Tokić, he negotiated a job with the owner over coffee in Boomerang, a nearby cafe, he remembers… The weather was nice and the most important thing for him was to get a job, but also to be able to go on a vacation. And he succeeded, the owner was already showing sensitivity to the needs of his employees. They came to an agreement, Kićo went on a vacation a month after starting his job and began his longest career in the leading regional chain of auto parts. The truth is, Kićo started his third day on his own in the branch office and very quickly realized: "We work in Tokić, but we also go to work with pleasure!"
Six World Cups later…
At the time of writing, the group's newest employee, Ivan Pažin, has completely different observations and priorities. Today, Kristian is the Executive Director for Continental Croatia and he welcomed Ivan, among all other departments, in the well-established process of "onboarding". "In the first phase of onboarding, I received an introduction to my own department, supply chain and warehousing processes, while tomorrow I will meet the branches. By the way, I've always watched one in my own neighbourhood. In any case, the first days were full of information, but the people around me are a real support and nothing is difficult for anyone "- says Pažin.
The story behind the data
"Kristian likes to remember old times because he finds inspiration for new challenges in them. Many operational things are much easier to do today, and when someone has a good idea – there are tools and colleagues with which it can be implemented quickly. You used to not be able to resist operational tasks and, in a way, we spent a long time in place. Now we can easily put the pedal to the metal, "says Kićo. And Ivan Pažin comes to such a job, which makes it even easier to put the pedal to the metal, as the thousandth employee of the Tokić Group, who built himself in the data world with a specialization in Data Science tools.
Ivan came to the Tokić group at the beginning of 2022, so he says: "I like working with data and telling the story behind it, and I have been following Tokić for some time. I first met the company two years ago, when I presented a tool to the department where I now work. I was most attracted by Tokić's potential and the working family atmosphere, because today my hobby is my three children. I am also sorry that I neglected volunteering as part of my personal story, but it is also something that is practiced in Tokić. " Mutual respect between employees and the company is something that has been nurtured in Tokić for decades, so all long-term employees, our "jubilees" for their 10, 15, 20, 25 and 30 years of work are also financially rewarded. As our 1000th employee, Ivan received a hoodie for his first step, but we hope that in the foreseeable future he will become our "jubilee".